News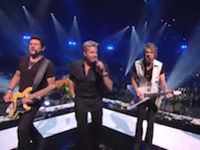 ALL ACCESS PRE-SALE BEGINNING WEDNESDAY!
January 28, 2013
Don't miss your chance to see Rascal Flatts as they take Changed Tour 2013 to London, England! The pre-sale for this show begin Wednesday, January 30th!
Remember, only ALL ACCESS Fan Club Members have access to the Fan Club pre-sales, so +login or join today! Visit the +EVENTS page for more information.
July 11, 2013 – O2 Shepherd's Bush Empire – London, England
The London, England pre-sale begins Wednesday, January 30th at 9:00 AM Local Venue Time and ends on Friday, February 1st at 9:00 AM Local Venue Time.
To purchase your tickets for the London, England show:
Login to your RascalFlatts.com ALL ACCESS account. If you are not a member, join +here.
Once logged in, click on the EVENTS section and then click on the Pre-sale Tour Dates tab.
Click on BUY PRE-SALE TICKETS to purchase your tickets using the Non-Ticketmaster password (found when you click the date in the details of the Event Page).
Important Information Regarding PIT Tickets!
The All Access Fan Club is implementing a new paperless pit ticketing process (as available per venue). This process will apply to all pre-sales going forward and will be the ONLY way to purchase PIT tickets from here on out.*
The new Paperless PIT ticketing process is simple – all you and your guests have to do is show up at the venue with your photo ID & the credit card used to purchase the tickets. At entry you must provide the credit card used to purchase the tickets and a matching photo ID. (The name on the ID must match the credit card used to purchase.) This means the original ticket purchaser must attend the show, and all guests accompanying the ticket purchaser must enter the venue at the same time. Ticketmaster paperless tickets are non transferable. To learn more about paperless tickets, visit Ticketmaster.com/paperless.
Please Note: Pre-sale times and dates are subject to change.
See you on the road!