News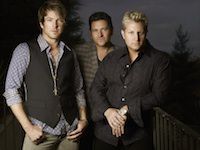 CHANGED TOUR 2013 REVIEW: MOLINE, IL!
January 15, 2013
Check out this review from opening weekend of the Farmers Insurance Presents Rascal Flatts Changed Tour 2013!
Light-up beaded curtains sank down slowly from the ceiling over the stage, creating perfect tunnels to surround bassist Jay DeMarcus, guitarist Joe Don Rooney and lead vocalist Gary LeVox.
They sang a bit of "Changed," and the beaded curtains illuminated to the beat of their voices.
Soon, the beads returned to the ceiling and a black curtain at the back of the stage dropped to reveal several light-up panels and five light-up cubes that descended from the ceiling.
"How's everybody feeling?" Mr. LeVox shouted to the crowd, and it roared back in response.
After the "Changed" snippet, the revved up the crowd with "Banjo." Ear-splitting cheers would punctuate the tunes for the entirety of the band's more than hour-and-a-half-long set.
It. Was. Awesome.
They brought "Summer Nights" to the excellently-mild January evening, and songs that just made you feel good like "Fast Cars and Freedom."
Out of all of the shows I have been to, country, rock or otherwise, I have never before seen a band treat an audience like Rascal Flatts treats theirs.
Not only did Mr. LeVox sing the bulk of "I'm Movin' On" while holding a gal's hand in the audience, he went down into the crowd on the floor to get her later on in the show. He brought her up on stage to dance and sing with him to "What Hurts The Most."
During a few songs, Mr. Rooney hung out with a little boy in the front row and signed his tiny guitar. Mr. LeVox signed it, too.
To top it off, they band took requests from the audience. The guys said they have played in the Quad-Cities several times, and they wanted to be sure someone didn't leave without hearing their favorite Rascal Flatts song.
To remedy, they played little snippets including "My Wish," "I'm Movin' On" and "Praying For Daylight."
The three also somehow managed to work in "Life Is A Highway," "These Days," "Bless the Broken Road," "Stand," "Me and My Gang" and more.
Other high points of the show includea wicked drum solo by Jim Riley, a guitar solo by Mr. Rooney, a cellphone video filmed by Mr. Rooney (when the crowd was asked to "say hello to Europe!"), and several autographs signed by those nearest to the stage.
The group closed with a medley of covers, including Kansas' "Carry On, My Wayward Son."
Read more here.