News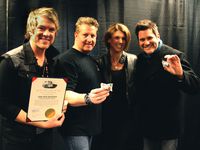 Joe Don made honorary "Ohioan" for a day
February 11, 2013
Rascal Flatts took their "Changed Tour 2013" to Columbus, Ohio over the weekend, the hometown and home state of band members Gary LeVox and Jay DeMarcus.
Not wanting to leave out band mate Joe Don Rooney, the First Lady of Ohio Karen Kasich proclaimed him an honorary "Ohioan" for the day and shared 'buckeye" candy.
Rascal Flatts "Changed Tour 2013" will continue this weekend in North Charleston, South Carolina, Greensboro, North Carolina and Charlottesville, Virginia with The Band Perry and Kristen Kelly opening.