News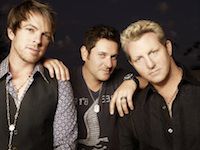 LIVE & LOUD TOUR WILL OFFER FAN TAILGATE EXPERIENCE
May 22, 2013
Rascal Flatts fans can begin their "LIVE & LOUD" concert experience by tailgating before the show doors open in the @FarmersFans Zone where all the fun is free!
Are you coming to see the Live & Loud Tour this summer? Check out some of the awesome and FREE experiences available to enjoy before the show-
See a fully customized Rascal Flatts off-road vehicle, complete with games that include some of the band's favorite hobbies like archery and golf. Fans can also have a photo opportunity in the backseat of the vehicle.

Traditional tailgate games like a basketball shootout, ladder golf or a bean bag battle with your friends.

Test your Rascal Flatts knowledge with "LIVE & LOUD" tour trivia and sign up to win an all-expenses-paid trip to the 2013 CMA Music Awards in Nashville, Tennessee this fall.

Dance Y'all will participate in the tailgate experience by teaching fans dance moves and offering them the opportunity to enter a "dance off" for a chance to boogie down on stage with the Farmers Insurance Dance Y'all Experience Featuring Laura Bell Bundy.
Once the gates open, fans can visit the Farmers Insurance tents on the concourse for more fun and memories by taking a spin on the Farmers We Plan, You Jam prize wheel, snap a photo at the Farmers Insurance photo booth or Tweet or Instagram a picture using #WeAreFlatts to get a free commemorative printout.


Get your tickets to a show in your area here