News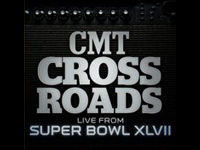 RASCAL FLATTS + JOURNEY TO HEADLINE CMT CROSSROADS
January 31, 2013
Tune in this Saturday February 2nd at 11pm ET to see Rascal Flatts & Journey headline the Super Bowl XLVII CMT CROSSROADS concert at the New Orleans Sugar Mill!
JOURNEY AND RASCAL FLATTS will air on CMT on Saturday, Feb. 2 at 11 p.m. ET/PT, the night before Super Bowl XLVII.
Check out the Facebook Event here.
Hashtag the concert on twitter with: #CMTcrossroads
Check in on GetGlue here.